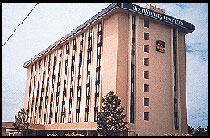 BEST WESTERN GROSVENOR HOTEL
380 SOUTH AIRPORT BLVD.
SOUTH SAN FRANCISCO, CA 94080
AIRPORT

The Best Western Grosvenor Hotel is a first class hotel offering a most convenient location, just two miles north of San Francisco International Airport and ten miles from downtown San Francisco. The hotel combines the most up to date accommodations with one of the most experienced and service oriented hospitality staffs in the Bay Area.


The recently renovated rooms are beautifully appointed and well maintained for your comfort and convenience. You can relax and unwind in the Brass Elephant Lounge and dine in the Brass Elephant Restaurant just off the lobby. The Hotel offers a location convenient to both the Gateway to the Pacific and the sites and sounds of the most exciting city on the West Coast, San Francisco. As South San Francisco's most recently renovated hotel, there is no better location and no greater value than the Best Western Grosvenor Hotel. The hotel is minutes to fine dining, shopping and entertainment.


Area Attractions


The hotel is five miles from Candlewick Park, home of the Giants and the 49ers. The world famous Silicon Valley is 20 minutes south of the hotel.

Property Amenities


- Airport Shuttle - Comp. 24-hour
- Children Stay Free - 12 Years and Under
- Lounge - Full Service
- Parking - Comp. Overnight
- Pets Not Allowed
- Pool (Outdoor)
- Restaurant - Full Service
- Room Service - 6AM-2PM & 5PM-10PM
- Satellite TV (HBO/CNN/ESPN/Discovery)




Room Amenities
| | | | |
| --- | --- | --- | --- |
| Amenity | Room Type 1 | Room Type 2 | Room Type 3 |
| Air Conditioning | X | X | X |
| Alarm Clock Radio | X | X | X |
| Coffee maker | X | X | X |
| Complimentary Coffee | X | X | X |
| Desk | X | X | X |
| Direct Dial Telephone | X | X | X |
| Hair Dryer | X | X | X |
| Handicap Accessible | X | X | X |
| Individual Climate Control | X | X | X |
| Iron/Ironing Board | X | X | X |
| Modem/Data Port Connection | X | X | X |
| Pay-Per-View Movies | X | X | X |
| Remote Control Color Cable TV | X | X | X |
| Shower Massage | X | X | X |
| Voicemail | X | X | X |
Room Types:
*Note that not all room types may be available for a specific date of stay.

Room Type 1 - STANDARD /1-2 PERSON
Room Type 2 - TRIPLE OCCUPANCY
Room Type 3 - QUAD OCCUPANCY
Property Information:

- Rating: 3.0
- Cancellation Policy: 24 hours
- Check In Time - 3:00 PM
- Check Out Time - 11:00 AM
- Extra Person Charge - $10.00
- Grp. Port Fee - $4.00
- Movie Rentals
Directions

The local Caltrain Station (the commuter service between San Jose and San Francisco) is just five minutes away from the hotel door.
Cancellation Policy

Cancellation Policy, HRN, Inc. Bookings are subject to a $10 USD fee for any CANCELLATION/CHANGE. If cancellation occurs within the Cancellation Policy period, a one-night charge will be assessed.
For reservations
call us at (866) 235-9330

Back to > San Francisco Airport